Projects: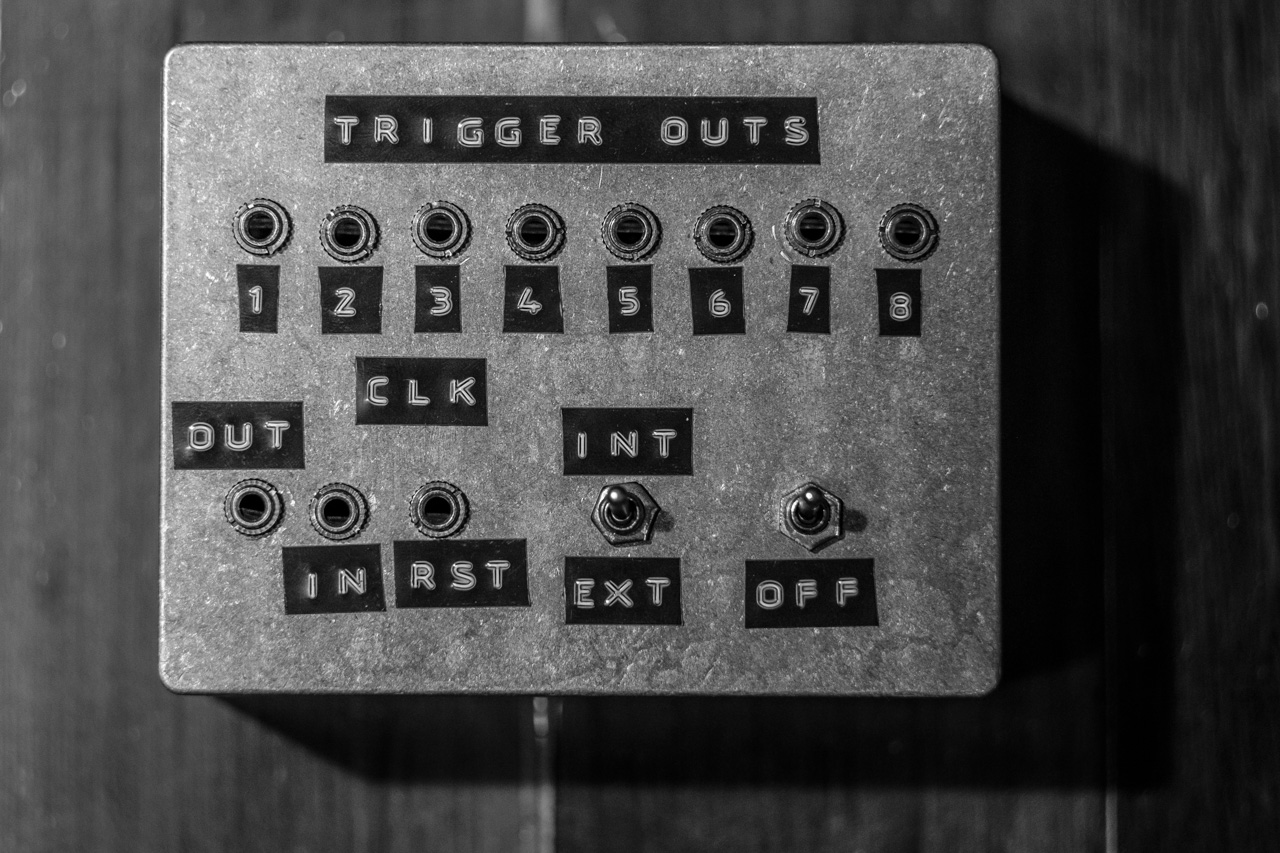 launchpad pi drum sequencer
I built this to have a powerful drum sequencer that I could use with my modular synth without needing to use a computer. It does run on a Raspberry Pi, which is a small computer, but it does not have a screen or keyboard or mouse. The sequencer is written in node.js and it sends out trigger pulses and a clock as well as midi over USB. It uses a novation launchpad as the input device and display.
video - github page with instructions and documentation to build your own
***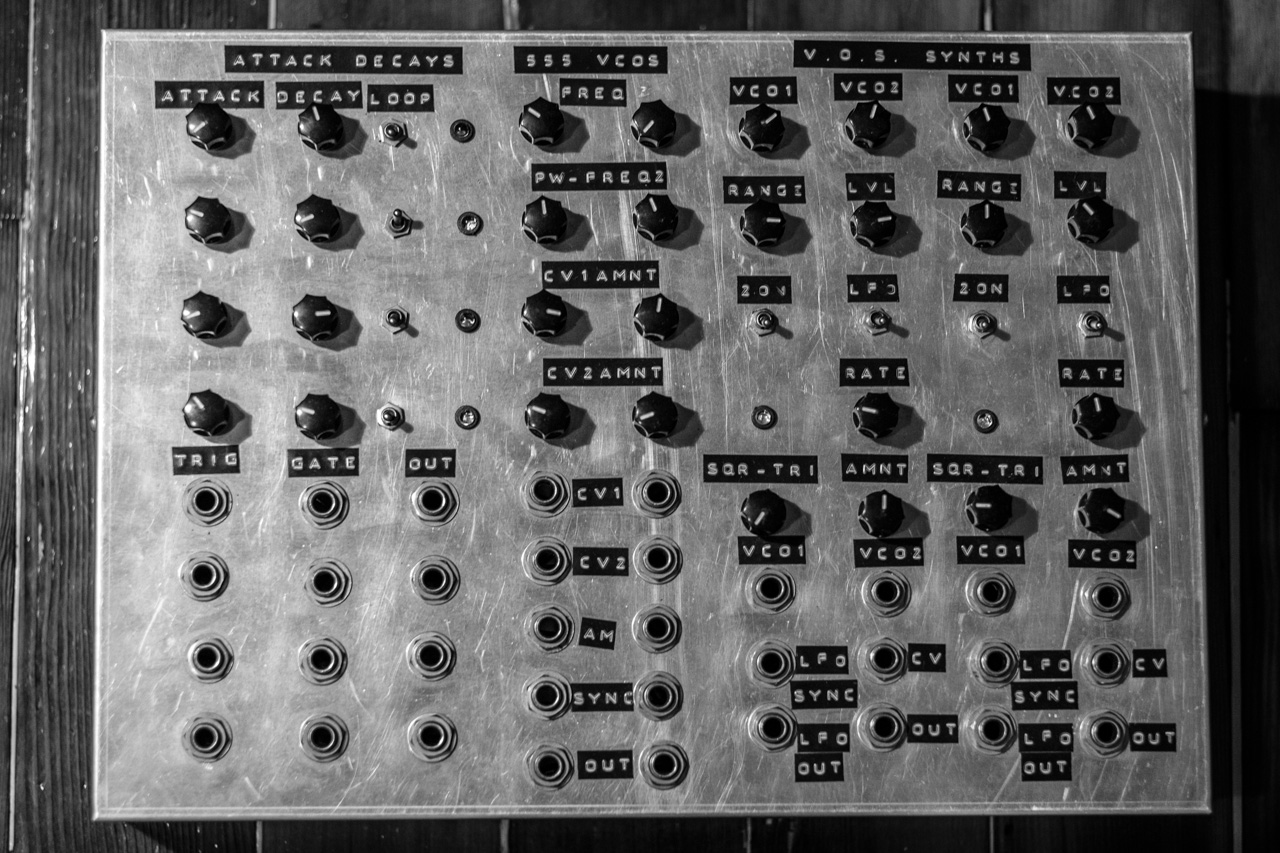 patchable nine volt synth box one
This was the first box of two that I built which was an attempt to build a modular synth powered by 9v guitar pedal power supplies. I used a style similar to Serge synths where each panel has multiple modules, but I used 1/4 inch jacks more similar to Moog style modulars. Using a single voltage supply rail also presented challenges as most modular synth designs are intended for positive and negative voltage rails.
Modules:
four attack decay generators with looping and trigger as well as gate, so they can be used as LFOs in looping mode and ASR envelopes with gate inputs
two 555 timer chip based VCOs with frequency and pulse width adjustments as well as two cv inputs and amplitude modulation and sync inputs
two Voice of Saturn synths, these are dual oscillator 555 based synths with an LFO and cv control of each oscillator as well as a vactrol cv control of both oscillators together
***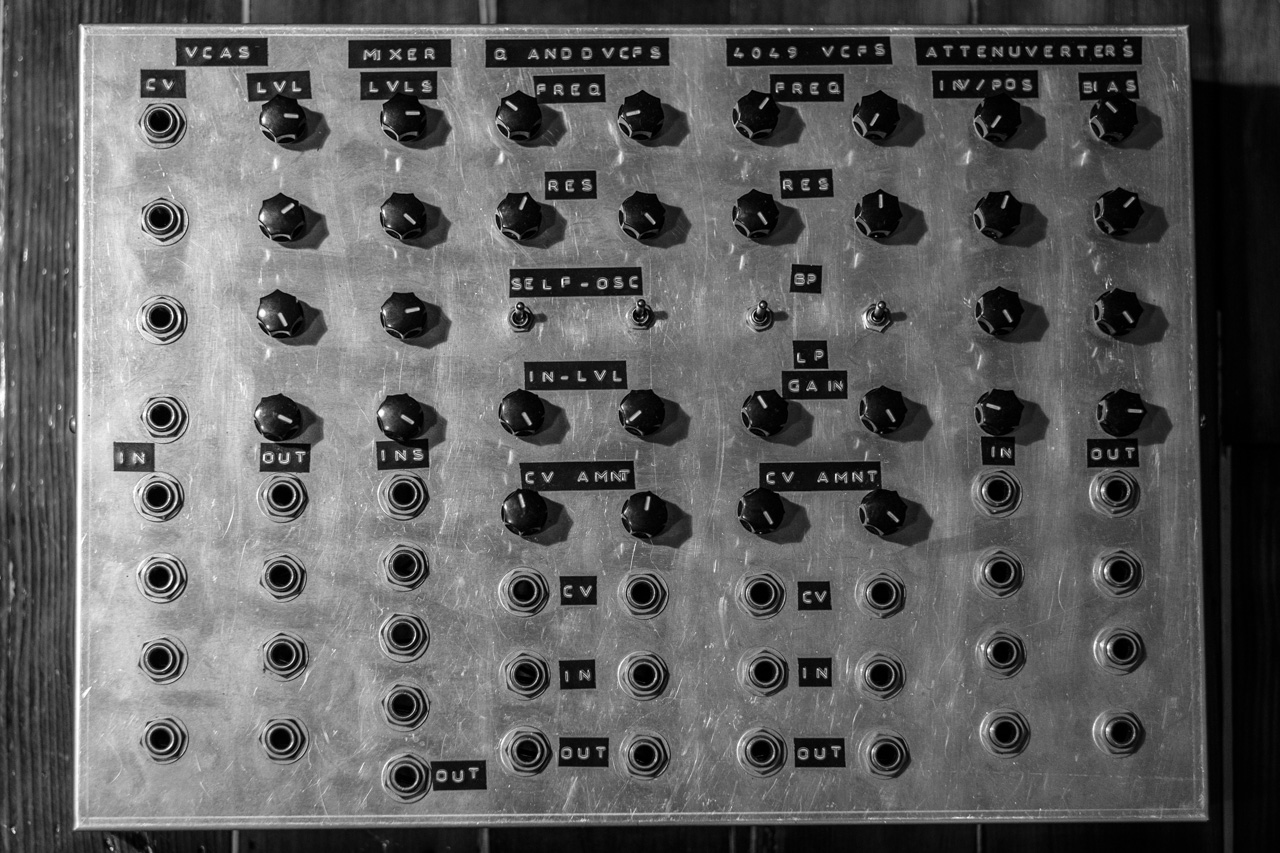 patchable nine volt synth box two
The second box of the 9v synth system.
Modules:
four VCAs with output level adjustment
a four input passive mixer
two Q &amp D VCFs with switches to change between the self-oscillating version of the circuit and non self-oscillating versions
two 4049 inverter chip based VCFs with switching between band pass and low pass
four attenuverters with offset
***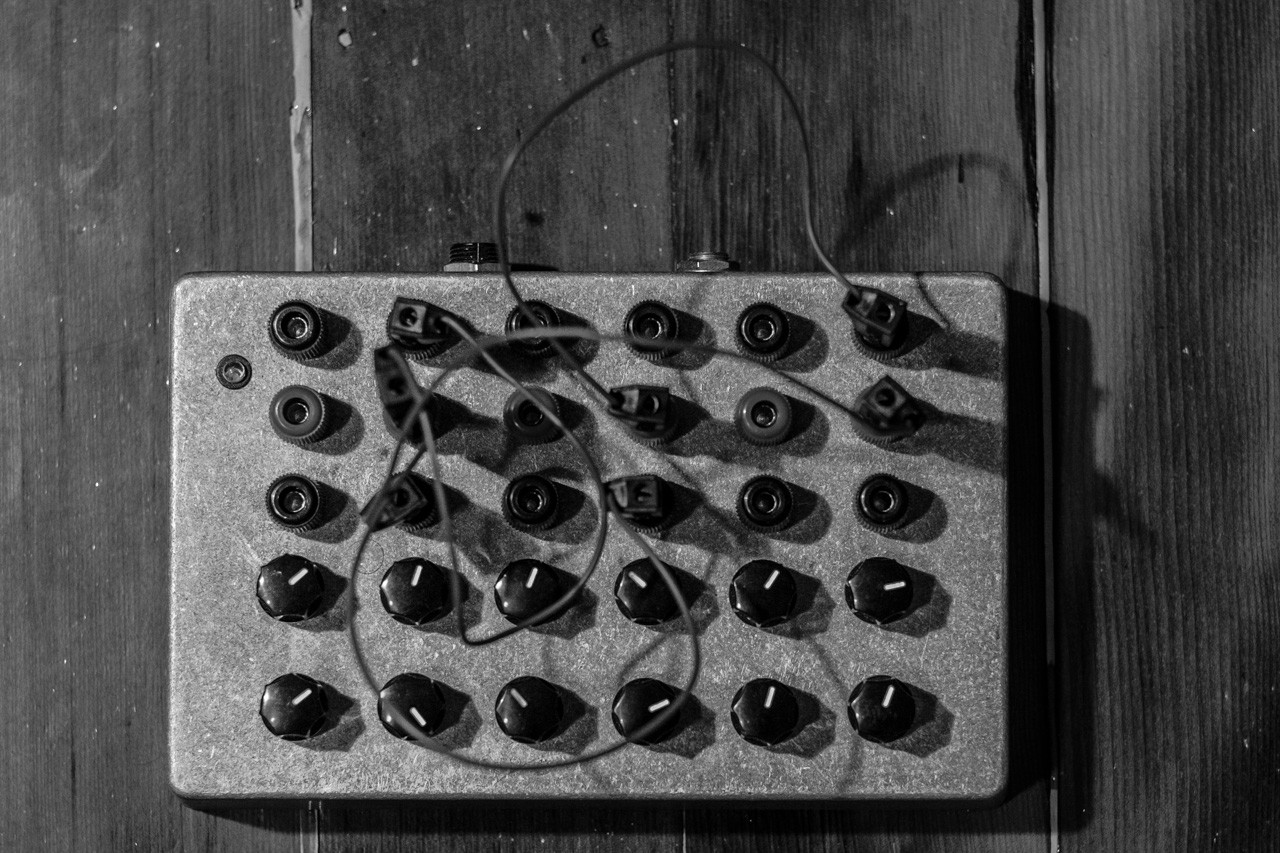 drone friend six oscillator drone synth
This drone synth has six simple single transistor oscillators that each have a coarse and fine tune potentiometer. The output of the oscillators goes to the banana jacks in the middle row. The jacks on the top row are summed into the output and the bottom row is a gate input for each oscillator. Complex drone sounds as well as rhythmic patches can be made with this synth.
***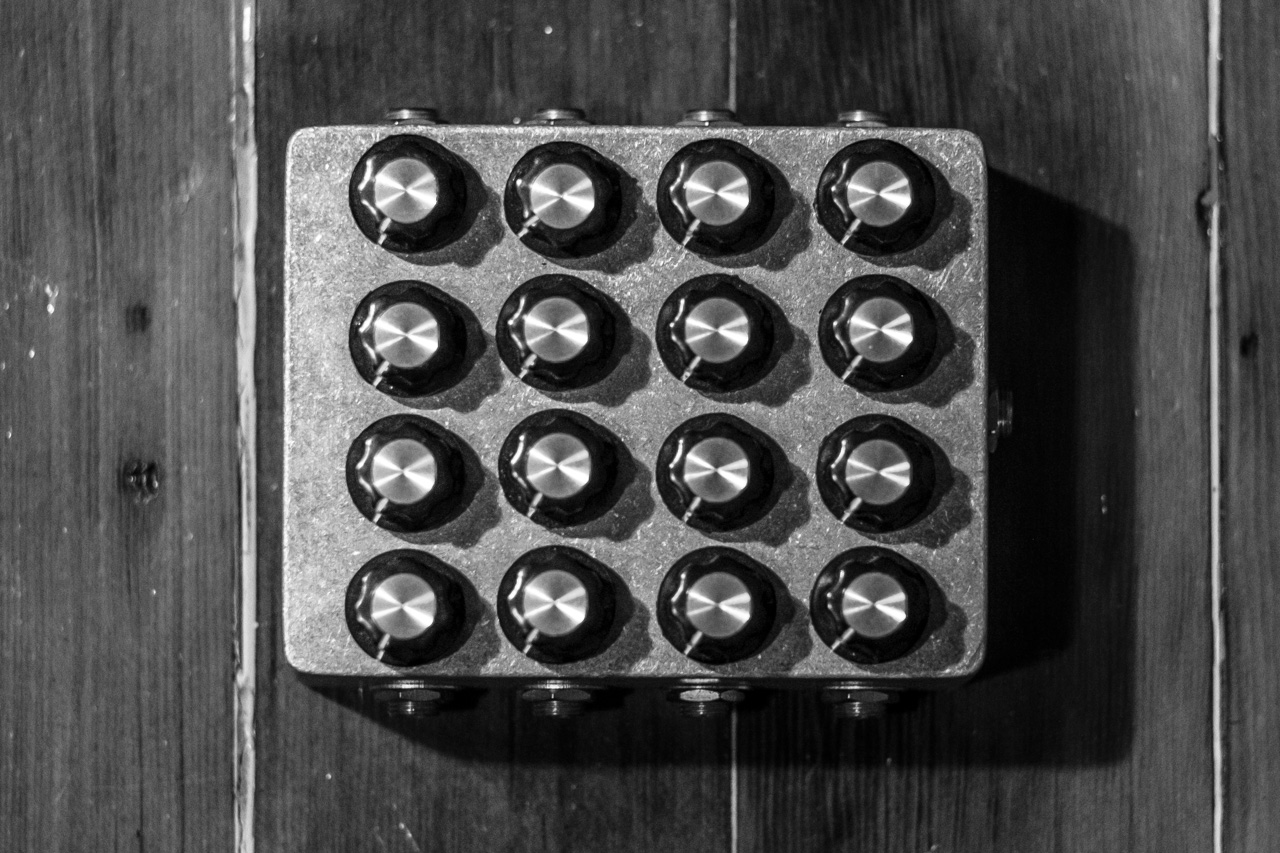 passive matrix mixer
A four input and four output passive matrix mixer with an extra output jack on the right for the right channel. The extra jack makes it easy to mix four feedback loops together and listen to the output of the fourth without needing a splitter box or Y cable. Matrix mixers can be used to make anything from calm drone sounds to chaotic noise walls with guitar pedals attached to them. They can also be used as a powerful mixer for routing effects in parallel and serial.
***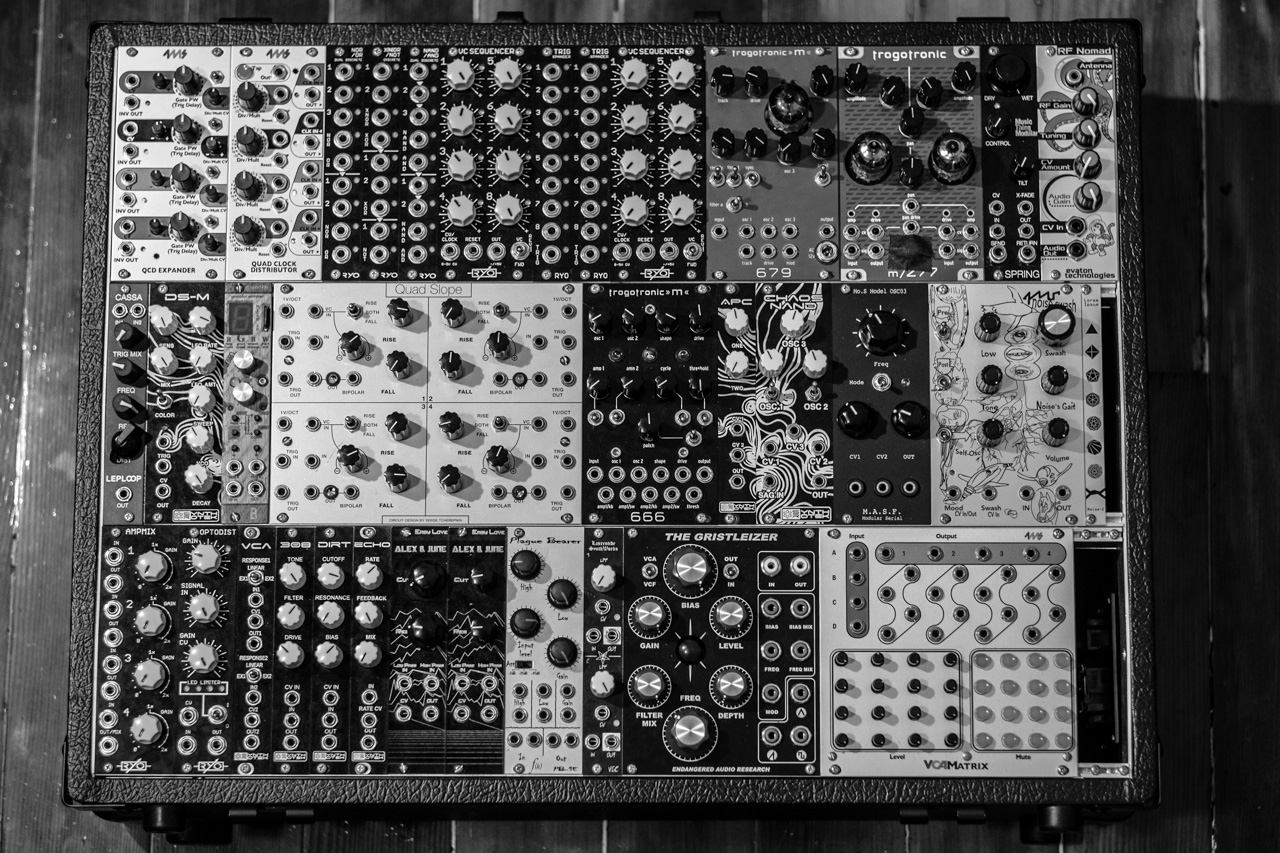 eurorack modular synth
My eurorack modular synth that is about 2/3rds built from kits.
***
Booking:
I am available to play shows in the Los Angeles and San Francisco areas. It is possible I would be able to play outside of these areas with enough notice. The email below is the best way to contact me for booking.
Hiring:
I am available for hire for all of the following:
build synths and modules from kits or schematics
build guitar pedal clones or unique designs
custom hardware and software synth and sequencer design
sound design and mixing or producing
troubleshooting and fixing audio equipment and synths
wiring and rewiring guitars
The email below is the best way to get in touch with me.